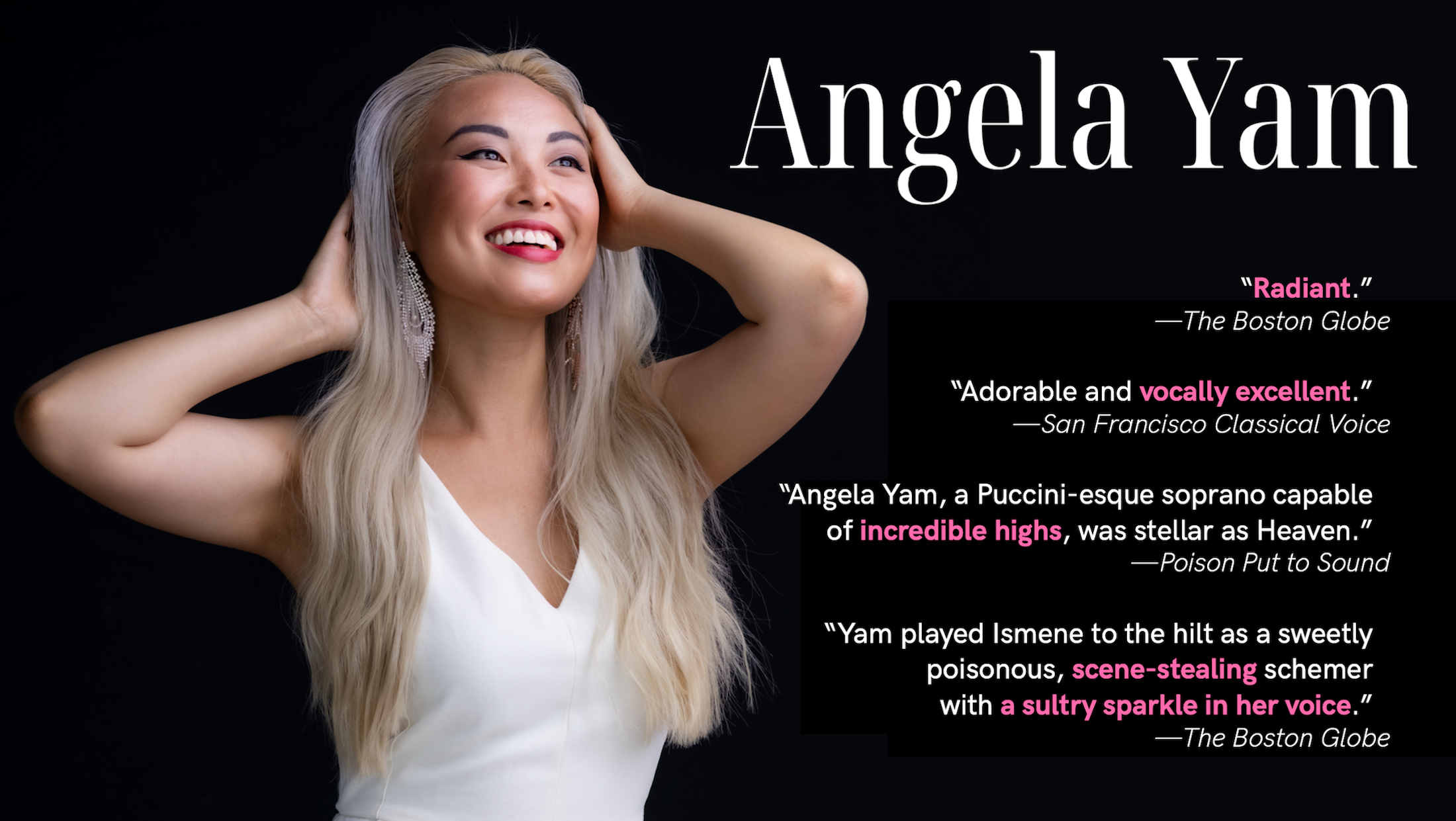 Biography
Angela Yam joined the New York City Ballet in Summer 2022 as the Soprano Soloist (Mendelssohn: A Midsummer Night's Dream). In the same summer, Yam performed Johanna (Sondheim: Sweeney Todd), the Soprano Soloist (Rossini: Petite messe solennelle), and covered Elder (Lembit Beecher: Sky on Swings) as an Opera Saratoga Festival Artist.
Yam's 2022-23 season includes the live premiere of Heidi Breyer's Amor Aeternus: Requiem for the Common Man at Carnegie's Stern Hall, the Soprano Soloist in Carol Koffinke's The Five Elements, Siren in Ellis Ludwig-Leone's The Night Falls, and Fractured Voices, a new opera with White Snake Projects in response to the rise in anti-Asian hate crimes.
In the 2021-22 season, Yam joined Santa Fe Opera as an Apprentice Singer, performing Cobweb (Britten: A Midsummer Night's Dream) and covering Agave (John Corigliano's Lord of Cries, world premiere), and singing in the chorus of Tchaikovsky's Eugene Onegin and Mozart's Le nozze di Figaro. Yam debuted as a "wickedly funny and talented" Clorinda (Rossini: La Cenerentola) with Fargo-Moorhead Opera, also performing Bastienne (Mozart: Bastien & Bastienne) and Jazz Trio (Bernstein: Trouble in Tahiti).
Yam made her professional debut with Opera Modesto as Mary Crawford (Dove: Mansfield Park), and holds a Graduate Diploma from the New England Conservatory (2021), where she performed as Blanche de la Force (Poulenc: Dialogues of the Carmelites), the Coloratura Soprano (Argento: Postcard from Morocco), Calisto (Cavalli: La Calisto), and the Soprano Soloist (Haydn's Die Schöpfung).