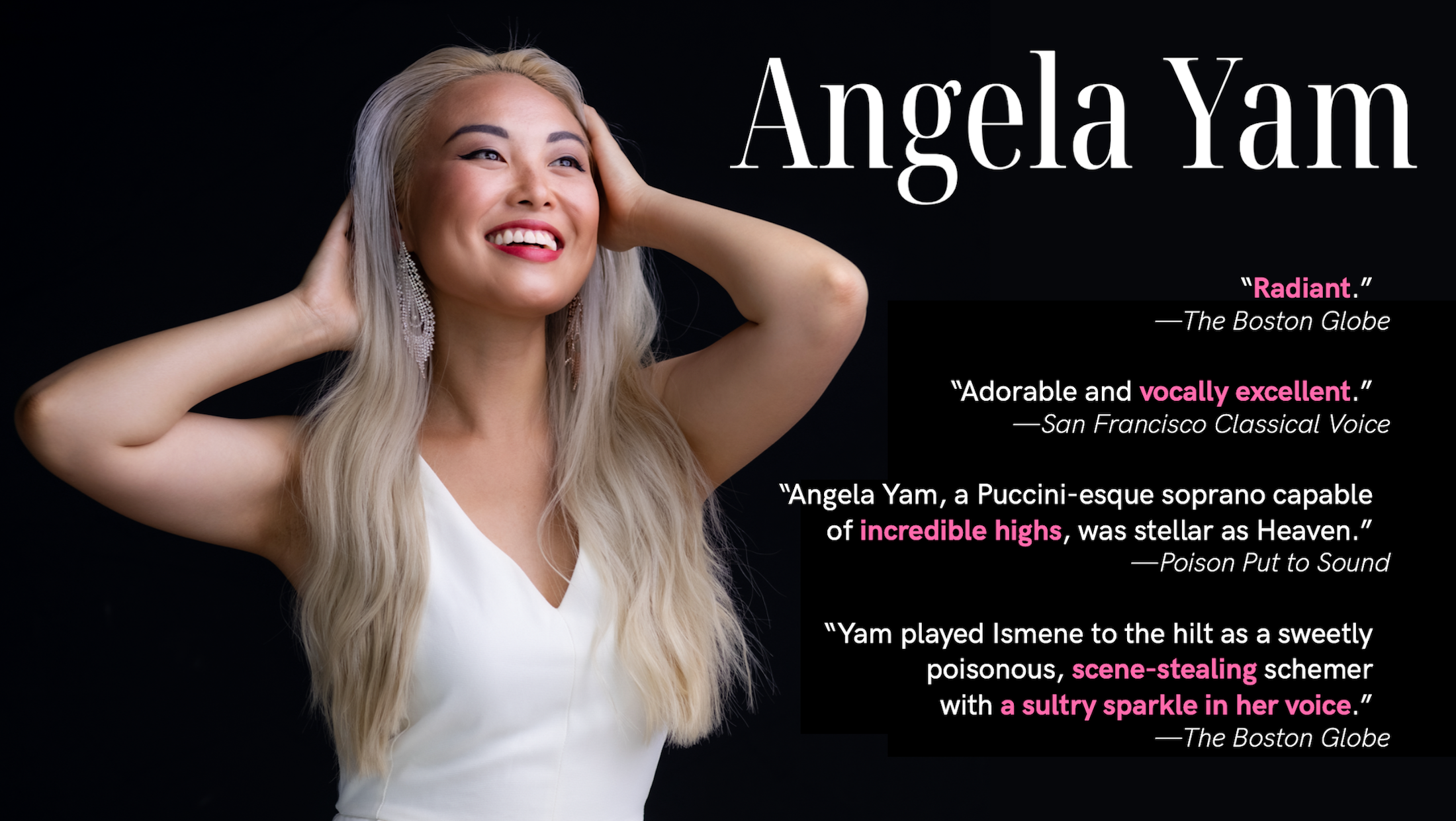 Biography
Praised for her "huge, clear voice," Angela Yam has sung with the New York City Ballet, Santa Fe Opera, Opera Saratoga, and Fargo-Moorhead Opera, where her work was praised as "wickedly funny and talented," and "a powerful soprano that really gets your attention." Yam won the New York City District in the 2023 Metropolitan Opera Eric and Dominique Laffont Competition. An enthusiastic new music singer, her performances have been praised as "stellar" and "a Puccini-esque soprano with incredible highs."
Yam's eclectic '22-'23 calendar features performances in cross-disciplinary new operas, traditional operatic repertoire, and musical theater. She makes her company debut with Boston Baroque in April 2023, performing the role of Diana in Gluck's Iphigénie en Tauride. She then joins Boston Opera Collaborative in L'elisir d'amore, performing Giannetta and covering Adina. In Summer 2023, Yam returns to one of her favorite roles, Johanna in Sweeney Todd with Chautauqua Opera.
Yam premiered the role of the Bird/Heaven in O-Lan Jones' and Emmett Tinley's genre-breaking experimental opera ICELAND with Overtone Industries at La Mama Experimental Theatre Club. Yam premiered Ellis Ludwig-Leone and Karen Russell's ballet opera The Night Falls as Siren 1, produced by PEAK Performances at Montclair State University and BalletCollective.
Yam's 2022 solo concert appearances featured debuts with the New York City Ballet (Mendelssohn: A Midsummer Night's Dream), Opera Saratoga (Rossini: Petite messe solennelle), and Music at Co-Cath (chorus, Monteverdi: Vespro della Beata Vergine). An avid choral ensemble artist, her season included debuts at Carnegie Hall (Heidi Breyer: Amor Aeternus: Requiem for the Common Man), David Geffen Hall with the New York Philharmonic Chorus, and Ekmeles.
An emerging director and composer, Yam spearheaded Nightingale Vocal Ensemble's award-winning production of ADRIFT, a new choral opera. Yam's self-directed cinematic Visual Recital was awarded 3rd place in the 2022 American Prize Competition for virtual performance.
As a 2022 Opera Saratoga Festival Artist, Yam debuted the role of Johanna in Sondheim's Sweeney Todd, covered Elder in Lembit Beecher: Sky on Swings, was a featured soloist in Rossini's Petite messe solennelle). As a 2021 Santa Fe Opera Apprentice Singer, Yam performed the role of Cobweb (Britten: A Midsummer Night's Dream), covered Agave (John Corigliano: Lord of Cries, world premiere), and sang in the chorus of Tchaikovsky's Eugene Onegin and Mozart's Le nozze di Figaro. Yam debuted as a "wickedly funny and talented" Clorinda (Rossini: La Cenerentola) with Fargo-Moorhead Opera, and also performed Bastienne (Mozart: Bastien & Bastienne) and Jazz Trio (Bernstein: Trouble in Tahiti).
Yam made her professional debut with Opera Modesto as Mary Crawford (Dove: Mansfield Park), and holds a Graduate Diploma from the New England Conservatory (2021), where she performed as Blanche de la Force (Poulenc: Dialogues of the Carmelites), the Coloratura Soprano (Argento: Postcard from Morocco), Calisto (Cavalli: La Calisto), and the Soprano Soloist (Haydn's Die Schöpfung).

Calendar
April 20, 21, 23, 2023 | GBH's Calderwood Studio, Boston, MA
Angela Yam makes her company debut with Boston Baroque as Diana in Gluck's Iphigénie en Tauride.
"Boston Baroque presents a new production of Gluck's opera Iphigénie en Tauride, returning to the work for the first time in over 20 years. Led by stage director Mo Zhou, the production stars Metropolitan Opera star Wendy Bryn Harmer in her role debut as Iphigénie, William Burden as Pylade, Jesse Blumberg as Oreste, and David McFerrin as Thoas."
April 27, April 28, April 30, May 4, May 6, 2023 | The Substation in Roslindale, MA
Angela Yam makes her company debut with Boston Opera Collaborative in Donizetti's L'elisir d'amore, singing the role of Giannetta and covering Adina.
"Love in the air - and in the glass! When Nemorino, a bashful bus boy, has his heart set on Adina, a vivacious bar owner, it's going to take more than dogged persistence to win her over. Fortunately, a traveling liquor salesman has just the thing - a pheromone-laden brew that's guaranteed to turn heads and hearts. But will the potion work before Adina's is swept off her feet by a dashing soldier?"
May 11, 2023 at 1:15PM | The Actor's Chapel St. Malachy's Roman Catholic Church, 239 W 49th St, NYC
Angela Yam performs Gesualdo madrigals with Ekmeles, a vocal ensemble dedicated to the performance of new and rarely-heard works, and gems of the historical avant garde.
"As a part of Midtown Concerts, Ekmeles explores the music of Don Carlo Gesualdo through the lens of lute tuning. The six singers of Ekmeles are joined by Adam Cockerham, lutenist, with whom they will demonstrate the effect that the lute's tuning had on the expressive qualities of the madrigals. To highlight this quality, a didactic work by Crescentio will be given its modern premiere in contrasting approaches to tuning. Midtown Concerts is a project of Gotham Early Music Scene."
June 30, July 7, July 12, July 21, 2023 | Norton Memorial Hall, Chautauqua, NY
Angela Yam makes her company debut with Chautauqua Opera in her triumphant return to Sondheim's Sweeney Todd as Johanna.
"A dark tale riddled with ghoulish humor set in Victorian London, Sweeney Todd returns from exile to seek revenge on the lecherous Judge Turpin, who destroyed what was once a happy life. When Sweeney reunites with the devious Mrs. Lovett, the owner of a failing meat pie shop, they hatch a plan that will help her with her business struggles and satisfy his hunger for revenge."